It does not matter whether you drive a Ford, Chevy, Toyota or European vehicle, today's complex vehicles can have costly repairs.  We recommend some extra protection in case of an unexpected repair. We offer numerous warranty packages custom tailored to you and your car.
You can add warranty protection on your new vehicle, even if the vehicle you choose is under factory warranty.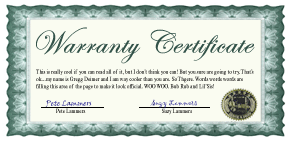 Our warranty packages have been hand selected and tested in our own service facility. All warranties European Motors Limited provides are bonded and insured. We have been in Cedar Rapids nearly 20 years and stand behind every product we offer. Come see why our customers love us!  Speak with a sales representative today and let us tailor a warranty to your needs.