Owners, Pete & Suzy take pride in the qualified and friendly staff at European Motors.
Interested in Joining our team? View Our Current Openings.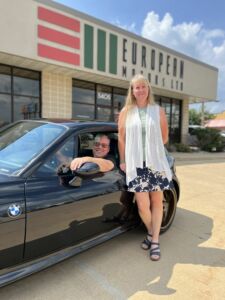 Pete & Suzy
Chief Car Guy and Gal
Pete's future career was seemingly determined with his first word "car", much to his mother's dismay. As time has gone on, he has developed a love and appreciation for all things requiring rubber tires whether it is restoring/customizing bicycles or tinkering in the garage with his wide array of hobby cars or just "killing bugs" on a nice evening in his 1968 Citabria aerobatic airplane.
Some of the cars in his early childhood were VW Squarebacks, a VW 412, and a '64 Sunroof Beetle. As a result, VWs have always had a soft spot in his heart. During his college years, he developed a greater appreciation for VWs by spending many weekends racing Volkswagen Sciroccos and VW GTIs on an amateur level in SCCA. They were an awesome car for the tight turning, short straightaway venue that eventually hooked him on larger, road racing tracks. Eventually he raced BMW M3s, Lotus and Porsche 911s for fun on many famous race tracks, including Road America.
His current (and always changing) collection includes VW pickups, VW Sciroccos, a Model A named Abby, and a patina 1960 Mercury Commuter station wagon that you find him driving frequently on the weekends with his beloved dogs, Dino and Ginger. His passion has made him a very knowledgeable resource for European Motors since he started in 1998 washing cars and worked his way through sales, service and on to his ultimate dream of owner. Although he has moved on from the sales side to a more managerial position, the enthusiasm when you talk to him about cars has never dimmed. His top priority is making sure the customer has a great experience with their European vehicle for years to come.
Suzy
Don't let the pretty face fool you, Suzy is a knowledgeable "car guy" like the rest of us. She has owned many European cars over the years including two beloved BMW sticks, one she sold with over 200K miles on it that the last we heard is still going with nearly 300K today! She has a beloved '85 VW rabbit convertible that she mechanically restored, complete with a "hot rod", screaming 2 liter 16V engine out of Scirocco donor car. She turned every bolt on this car herself and calls it her labor of love.
She is currently restoring a 1990 Cabriolet.  She is our extended warranty specialist and can custom tailor the perfect extended coverage for your new ride. Call her today for more details on your next vehicle.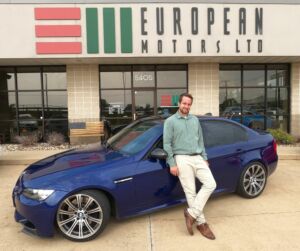 Tommy
Sales Manager
We met Tommy when he was just a polite, well-mannered boy who came in with his Mom and Dad, who gave Tommy the European car bug. Tommy started working here washing cars shortly after earning his driver's license and has been with us ever since. Today, Tommy is also Pete's "right hand man" with regards to managing the vehicle inventory during the arrival process, being our main sales associate, and managing the Detail Department at European Motors. Tommy owns a BMW M3 (E90) 6-Speed manual. Tommy's daily contribution to European Motors is invaluable and our customers love his wide array of knowledge and enthusiasm of all things European car related. If you ever have any questions, sales or service related, Tommy can help you.
Service & Parts Staff